Caramelle alle verdure / caramel with vegetables
Fine vegetables in a puff pastry wrapper. For this recipe you can use vegetables of your choice, even leafy ones, mostly the easiest to adapt to the season. Now it has everything, so I used zucchini, balances and peppers.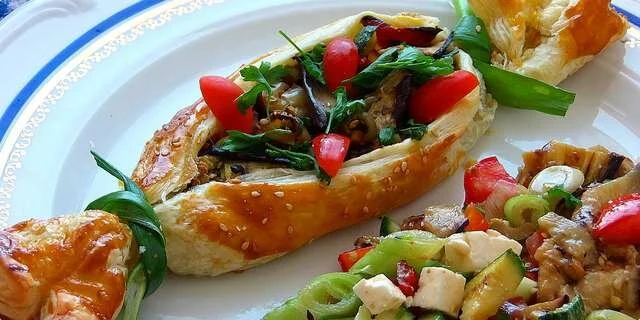 Preparation steps
Wash and slice the vegetables into fetishes. Serve it lightly. Fry the vegetables on both sides in a dry grill pan. Leave to cool and cut into smaller strips. Add finely chopped olives, parsley, garlic, grated motzzarella / finely chopped, olive oil, salt and pepper.
Roll out the puff pastry. Cut it into four equal parts. Put a bag of najeva in each part. Wrap like caramel, tie the ends with strips of baking paper. Preheat the oven to 180C. Place the baking paper on the baking tray and arrange the caramels. Coat them with beaten egg yolk and sprinkle with sesame seeds. Bake for about 20 minutes, until they get a nice golden color, become crispy and start moving on the protvan.
If you want the caramels to look nice, remove the bruises from the strips of baking paper and tie a bunch of spring onions or chives instead.
Serving
Enjoy hot or cold with a fine salad.