Vanilla goblet
Vanilla conquers with its taste and aroma, and how harmonious it is to complement it with apricots and crispy roasted hazelnuts - says this cup of hers. Round this special, but above all simple dessert with whipped cream.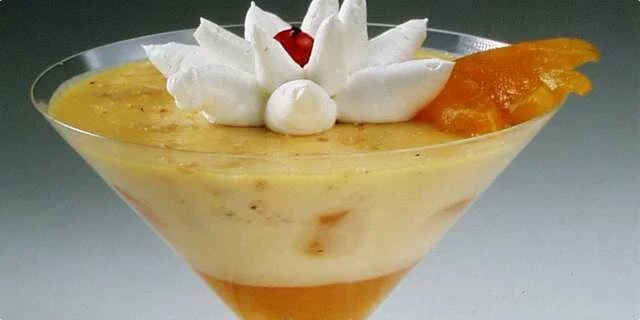 Preparation steps
Mix milk and sweet cream and bring to a boil.
Mix the pudding powder with the sugar and 2 to 3 tablespoons of cold milk.
Remove the boiled milk and sweet cream from the heat, add the whipped pudding powder while stirring with a whisk and cook for 1 to 2 minutes.
Towards the end of cooking, stir in the roasted chopped hazelnuts into the pudding.
Serving
Arrange the apricot halves on the bottom of the glass and pour the pudding over them. When the pudding has cooled, garnish with whipped sweet cream.
Advice
Instead of the suggested cups, you can also prepare your own combinations, which will, of course, also depend on which pudding and which toppings you have at your disposal.