#

rogach
A ragged carob pie
This is a "modified recipe" without GMO ingredients. Combined parts of several different recipes. An ideal Sunday cake. In delight!
On Saturdays, when I "get into the housework machine", cakes like this are a salvation. Plus it's delicious
Aunt Vega's cubes
If you like simple and juicy cakes then this is the cake for you :)! It's too good for me but I would love to hear your opinion if you decide to try it :)
After a long try and combination, I came to this bread with a discreet but special aroma, which goes well with various savory dishes, but also with jams and sweet spreads. In addition, it stays fresh for days, which is important if there are only two of you in the house. :-)
What have we had pumpkin so far? cakes, pies, savory meals…, let's add these two desserts: Bujaro and Bujama strudels…, so that the names are not completely foreign to you, Bujaro means BUndeve, JAbuke, ROgač ..., while Bujama BUndeve, JAbuke, MAk…, enjoy, as i enjoyed :)
Cake with carob and zucchini
In this cake, carob and zucchini are soooo much loved.
Cake with carob, walnuts and chocolate
I didn't try carob until a few days ago, but when my palate felt it… It was love at first bite!
Cake with plums and carob
I found the recipe, that is, first the picture and then the recipe, on the forum "What did you personally cook today". It was posted by a user under the name Leticia and the original recipe is called "Chocolate cake with plums". Thanks Leticia for a wonderful recipe.
Carob and cherries
Eggless cake, full of flavors and aromas ..... a variation of the Black Forest..with carob :)
Carob and cherry cake (without eggs)
Thank you to my friend Dijana for the great recipe. I added a teaspoon of cinnamon and my chocolate glaze to this cake on my own initiative, baked it in the shape of a cake and that's it. When I bake a "cake" I change the picture. :-))))
Carob and dried fig cookies
Carob is one of my favorite ingredients in cakes, especially since its scent awakens in me the most wonderful feelings from childhood. In my mind, large carob crowns are hovering over the stone dry stone walls on the paths since Drvenik Mali…
Carob and hazelnut cubes
..scented..soft… who loves carob, and hazelnuts this is a complete hit… good taste!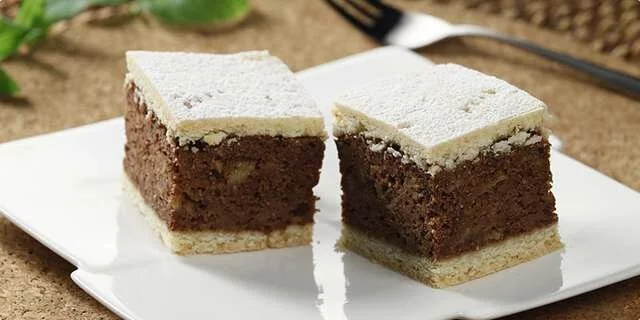 Carob asks
If you want to prepare dessert the day before, this delicious carob and apple pie is ideal for tomorrow's festive, family lunch. And it can be taken to guests or to one of the cool gatherings.
Carob bajadera
Maybe those who are not carob lovers like it too. She is very nice.
Carob cake
This cake is made by my mom and has always been my favorite of many who found themselves at our table. So dear that I was among the first to decide to do it myself and share it with him whenever the opportunity arose to bring him closer to others. It is specific because of the taste of carob, which some like and some do not, but in combination with other ingredients they often ask for more :-))