Peach pain
Bola is a drink for hot summer days. Soda water or sparkling wine is poured over slices or cubes of fruit, which are chopped, sugared, seasoned and cooled well a few hours before serving.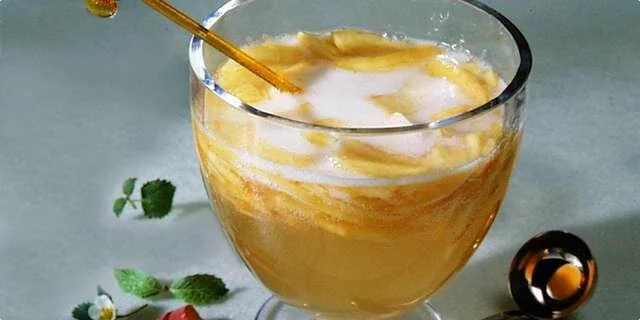 Preparation steps
Peel a squash, grate it and cut it into cubes or slices.
Sprinkle with vanilla powdered sugar, sprinkle with lemon juice and pour over white wine. Leave to cool in the refrigerator for at least 2 to 3 hours.
Then add the chilled champagne and brandy or maraschino. Do not stir often and much as the pain will become cloudy.
Serving
To make the sugar dissolve more easily, sweeten the pain with sugar syrup instead of harder-soluble crystals. You can add soda water instead of champagne.
Advice
Instead of cognac and maraschino, you can also add apricot liqueur.