Bancho
A cake with bananas, honey and chocolate that could be called BLACK WITH COMPLETE EQUIPMENT :-D, is actually a juicy and aromatic biscuit that goes well with a drink.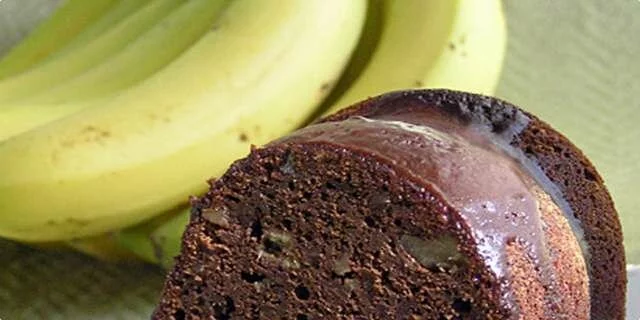 Preparation steps
BISCUITS - Mash the bananas into a puree. Melt the chocolate (steamed or in the microwave) with the butter. Add liquid banana honey and brandy to the chocolate and mix well. Then add the egg yolks one by one, stirring constantly. Add flour and nuts. Beat the egg whites with the sugar into a stiff batter and mix them carefully into the dough. Shake the mass in a greased and floured tin. Bake in a preheated oven at 180 ° C for 40-50 minutes.
GLAZING - Mix sugar, cocoa and water, bring to a boil and melt butter and chocolate in it. Pour over the cooled cake.
IMPORTANT: If you bake the cake in a semi-circular tin like me, reduce the amount by 1/3 this time, it means 4 eggs and everything else in proportion to that!
Serving
If you are not lazy, you can bake this cake in bowls like souffle and serve it with a liquid cold and even better hot chocolate sauce flavored with Amareto liqueur.