#

bajame

I have seen a lot of recipes here on the same topic, with a different name and different ingredients. I've been preparing like this for years ... and what can we say, they are fantastic ... I hope it will be for someone else.
Bajamovka
I played around a bit, so I filled the crispy dough with almonds and oranges, rolled it up, woven it into a wreath, decorated it with flowers.
Berries
in Split, it is customary on the feast of All Saints to give women, girls, these sweet delicacies.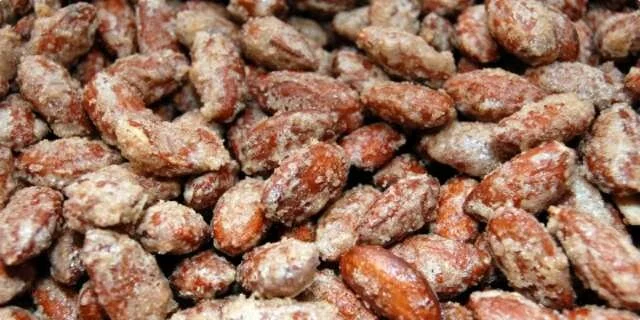 BRUSHTULANI MINDELI (candied almonds)
The recipe is very simple, but you need to be very careful and concentrated, and in addition to everything you do, you have to do it from the heart. We recommend that you always do it in the same weights and with the same spoons, because that is the best way to touch your hand. It is best to have homemade almonds in the crust and the total concept is to beat them on the stone in front of the house. (Sugar almonds are a delicacy in this part of our country, and this recipe is original from Korčula.)
Candied almonds
To clarify right at the beginning, almonds are actually - almonds. Under both names, these nuts simply adore the sweet baths they come out of with tight robes, which crunch so beautifully under their teeth.
Candied almonds or brussels sprouts
simple and linden dessert for snacking at speed….
Christmas bread _ Stollen
Not a single Christmas passes without this bread on our table ....
* Cracked Amaretti *
So simple, and so contagious ... For intentional or completely accidental snacking ...
Fig and chocolate balls
... so simple and so irresistible balls !!!!
French almond cake
Almond, vanilla and lemon are a fantastic combination - let this cake convince you of that too! Almonds in biscuit and almonds in beautiful cooked cream will provide lovers of these nuts with perfect pleasure! Gentle, white and aromatic this cake will magnify your every celebration and even wedding! :)
Master's cake
A combination of fried almonds and chocolate. Jaaaaaako delicious cake;)
This is the cake I chose for my birthday celebration this year! My friend Andja told me about it, whom I thank for the recipe, and I fell in love with the cake on the first listen ... As soon as I heard the words: blanched almonds, squeezed orange juice, I knew it would be top notch! And, I wasn't wrong! Fourteen of us tried the cake, and everyone liked it!
Orange and roasted almond cake
This is not a cake for every day because it is sweet, filling, caloric and big ... and yet it is my favorite cake. It has been unavoidable at various celebrations (including my wedding) for years and never gets bored. She is our classic.
Sugar almonds (Sugar almonds)
old Dalmatian recipe
Tonytella
Creation of: hazelnuts, almonds, dark chocolate, mascarpone ..... I wanted something special and, without false modesty, I made a fantastic cake.
Tosca cubes
Fine biscuit with the addition of crispy, caramelized almonds make this dessert extremely special :)