Ana's walnut tree
Ana and I have two things in common. One is that we are both small, and the other is that we are very bigeeee when it comes to the love of cooking. Surprise for Ana from the heart .....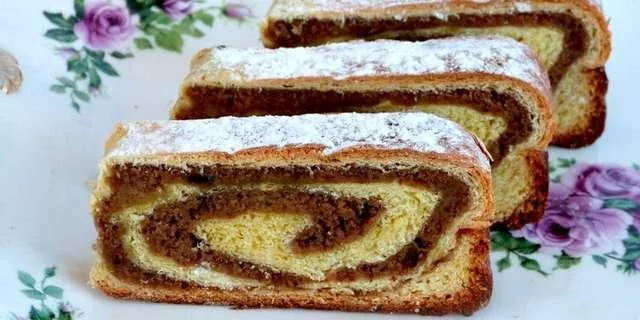 Preparation steps
It is important when making walnuts that the room in which you knead is very warm and that all the ingredients are at room temperature.
Sift the flour and mix with the sugar. Make a hollow in the middle and grind the yeast into it and pour warm milk over it. Let the yeast swell. Then add the melted butter, egg yolks, lemon zest and a pinch of salt. Knead a smooth dough. Put the dough in a bowl, cover with a cloth and wrap with a blanket. Allow to rise until doubled. When the dough has doubled, knead it and divide it into two parts.
Fila: Bring the milk to a boil together with the sugar. When it boils, mix in the honey and rum. Pour the hot over the ground walnuts.
Roll out the dough to half a centimeter thick and coat with half of the fillet. Roll it out and place it in a baking dish on baking paper. Do the same with the other half of the dough. Leave it warm for another half an hour. Preheat the oven to 170 degrees and bake the walnuts for about 35-40 minutes. Dimensions of the protvan in which I baked 19x34cm.