3D greeting card
I saw this greeting card for the first time working on the Crayoli-kids site. They worked with plain colored paper and decorated it with felt-tip pens. My children worked that way, because it's easier for them. I brought in some new material.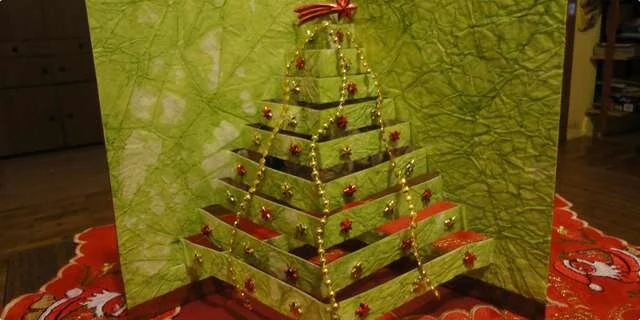 Preparation steps
Glue green eco paper on A4 size cardboard.
Glue red eco paper on the other side so that the edges turn to the green side.
Fold the cardboard in half. Use scissors to cut the slats about 1.5 cm along the entire length of the greeting card (first widen and then narrower towards the top of the greeting card). Bend each strip to the end. Return, then do it on the other side.
Straighten, open the card and throw the Christmas tree to the side you want. I put it on the green.
Take the details, then glue as desired.