2in1 cone with cheese and lasagna with strawberries
Sweet and fine pleasure!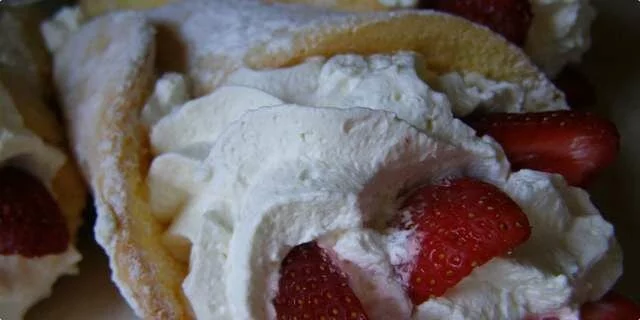 Preparation steps
Mix eggs, sugar and vanilla sugar well (4 min). Sift flour, starch flour and baking powder and add lightly to beaten eggs. Preheat the oven to 180¨. On baking paper, apply the mixture in a circle of 15 cm. Bake for 10 minutes. Immediately form the shape of a cornet and place in narrow: cups to cool. You get 8 cornets.
Mix the cheese with the powdered sugar, vanilla sugar and lemon zest, make the sweet cream well and add the cheese.
Put the mixture in a large syringe and fill the cone, garnish with strawberries !!
Sprinkle with powdered sugar !!
Serving
You can also make a cake according to this recipe: lasagna with the addition of 300g of strawberries. According to the biscuit recipe, bake two biscuits, put cream cheese on the bottom biscuit (without sweet cream), place strawberries on the cream and put the prepared sweet cream on the strawberries. Put another biscuit on top of the cream, on which again put strawberry cream cheese and sweet cream in turn. Finally, grate 100g of white chocolate and sprinkle with sweet cream. and here's how she did it: Yaja