Cracker cakes
If you ask your grandparents what the secret of their health and longevity is, you will often hear, "Because good food used to be eaten!" With crackling cakes, go back to the "good old days".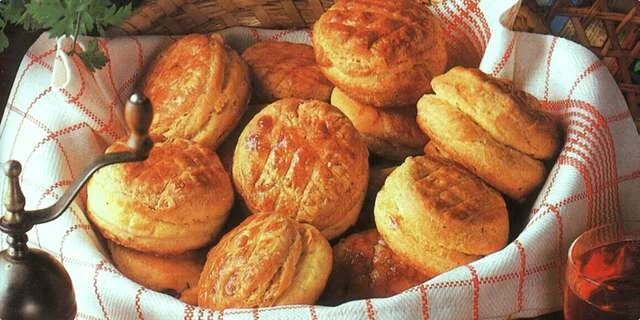 Preparation steps
Mix the sifted flour with the instant yeast. Put egg yolk, softened margarine and salt in the middle and make a soft dough with lukewarm milk. Leave covered to rise in a warm place for about 30 minutes.
Meanwhile, grind the cracklings and mix them with the flour to which you have added a little pepper.
Roll out the risen dough into a quadruple (about 1 cm thick), coat it with crackling filling and fold the edges of the dough. Roll it out again and fold it again as for puff pastry. Roll it out once more and fold it again without resting.
Repeat the procedure three times. One last time, roll out the dough to a thickness of 1.5 cm and cut out the cakes with a glass or a round mold.
Arrange them on a greased baking sheet, cut the surface of the cakes in the shape of a grid, coat with egg and bake in an oven preheated to 180 ° C for about 20 minutes.
Serving
Serve crackling cakes with homemade dishes of sauerkraut or beets.
Advice
You can cut the dough prepared in this way into round shapes, put a little crackling filling in the middle and fold the dough to get crescents.