"2 of 1" Pastries with cheese and chard
Beautiful pastry, tasty and soft. When I was halfway with the pastry shaping, I decided to shape the other half of the dough differently and a wonderful cake was made! Of course you can make only pastries or just a loaf from half the amount of ingredients - the choice is yours.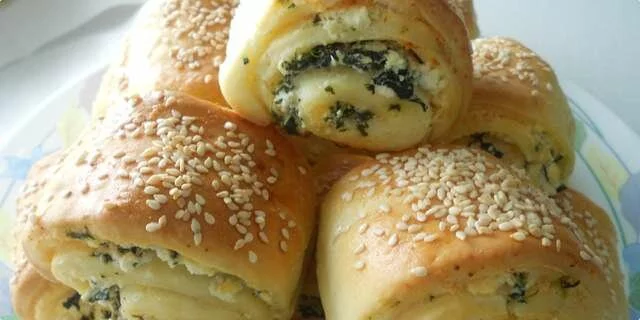 Preparation steps
First we put the yeast with water, sugar and 1 tablespoon of flour to add.
In a large bowl, pour flour, 2 teaspoons of salt, oil, yogurt that stood at room temperature, pastries, leftover yeast and add lukewarm milk to knead a smooth dough. Cover with a cloth and let it grow for about 20-30 minutes.
Preparation of the spread: Whisk with a mixer 200 g of margarine with 3 egg yolks and one tablespoon of flour.
Preparation of the filling: briefly boil 8 chard leaves, then place them on a board, cut them into small pieces and squeeze with your hands. Put 400 g of small cheese in one bowl, add squeezed chard and 2 egg whites.
Knead the dough briefly on the floured work surface and divide it into 4 parts. We shape the balls and set them aside.
From each dough, stretch a rectangular crust with a length of about 70 cm, coat 1/4 of the spread, sprinkle the filling over the entire crust by hand and roll it up.
Cut each roll into 8 parts and arrange in a greased pan. Leave to grow for 20 minutes, coat with whipped egg whites and sprinkle with sesame seeds. We put a little margarine on each pastry.
Bake in a preheated oven at 200 ° C for about 25-30 minutes.
After shaping 2 rolls (one tray), I decided to cut the other 2 rolls into zigzag shapes, arrange the resulting triangles in a greased tray the size of 28 cm without any counting, just how many triangles I had. Coat with egg whites, sprinkle with sesame seeds and bake in the same way. It turned out to be an unplanned but wonderful cake.
Baked bread
Pastries and cakes of the same dough and filling.
Serving
Serve with yogurt, sour milk or to your taste. Good appetite !!! I want to mention that I didn't have chard yesterday so I put on spinach and the pastries are equally delicious and soft!