Pitta coi pomodori
Appetizer, but also something more. In Italy, antipasti are an opportunity to start lunch in the best possible way, offer guests at a party or snack with a glass of wine. Tomato pie is very similar to vegetarian pizza.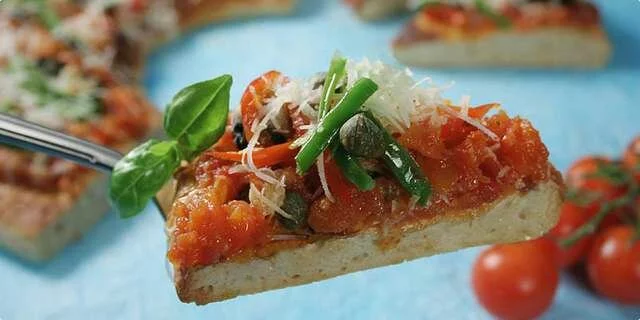 Preparation steps
Stir the yeast into a little warm water and flour and leave to rise for about 10 minutes.
Add salt, oil, leavened yeast to the remaining flour and knead a soft smooth dough while adding water. Leave the dough covered to stand in a warm place until it doubles in volume.
In a tablespoon of olive oil, briefly sauté the tomatoes, peppers cut into sticks and finally add the shredded basil.
Knead the dough and shape it into a rolling pin. Cover the pan with baking paper, arrange the dough in the shape of a wreath and spread it into a thin layer with your hands.
Arrange the prepared tomatoes with peppers on the dough, sprinkle with olives, capers and Natur, sprinkle with oil and finally sprinkle with grated cheese.
Bake in an oven preheated to 220 ° C for 15-20 minutes.
Serving
Serve immediately after baking.
Advice
Do not coat the baking paper with oil to make it easier to spread the dough on the paper.