Spaghetti with tuna
This simple dish is a famous Italian specialty, and its characteristic taste is already a favorite around the world. Although many claim that all the charm is in the sauces, it is not surprising to surprise with pasta.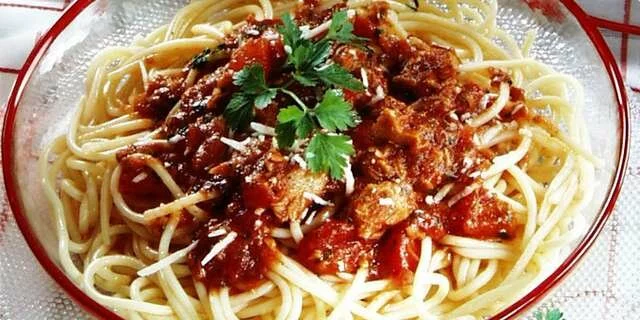 Preparation steps
Place half-sliced ​​garlic cloves in a pan on a lightly heated oil mixture. When the garlic turns slightly yellow, take it out of the pan.
Put the chopped tomato and in the oil and simmer until part of the liquid evaporates. Then mix in the wine, pieces of tuna, basil, pepper and, if necessary, add a little salt.
Boil everything very briefly and stir in the chopped parsley.
Serving
Pour the sauce over the cooked and drained spaghetti and sprinkle with parmesan.
Advice
In order to be able to serve a tuna dish even when the family is not sitting at the table at the same time, it is important not to cook the pasta completely, drain it, rinse it with water and leave it in cold water. So you can put a certain amount in the prepared sauce at any time, add a little butter if necessary and heat in a pan or in the microwave.