Choco joy
Again a recipe taken from the magazine Hrana i vino and again a dessert that doesn't drink water, but I'm persistent in succeeding :) so I made my own version again :)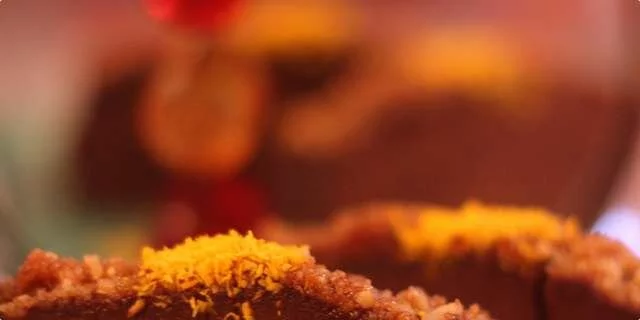 Preparation steps
Whisk the egg whites with the sugar and slowly add the egg yolks one by one. Add cocoa and mix lightly.
Bake in a large pan and cut into strips.
Put the whipping cream to boil, remove from the heat and add the chocolate and butter.
For the grilaz, melt the sugar to the caramel and add the walnuts and remove from the heat. Pour the mixture onto an oiled plate and allow to cool. In a multipractice make a grilaz from the mixture.
Take one strip of biscuit and spread with cranberry jam. and sprinkle the cream with grizzly bear, then put a new crust, coat with jam, sprinkle with grizzly and then cream, and put the last crust and coat only with cream and sprinkle the remaining grizzly.