Vienna roll
Viennese cuisine seems to have come out of heaven itself, and right from there, together with all the other delicious recipes for Mozart balls, Viennese slices, cakes, it has arrived… Roll the roll with style, the way they do in Vienna.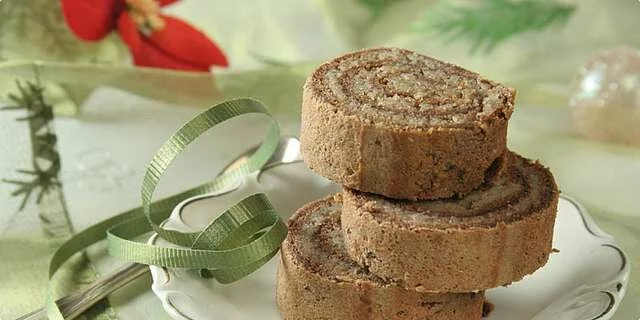 Preparation steps
Whisk the butter and 90 g of sugar, gradually adding the egg yolks.
Then add the vanilla sugar, cocoa, softened chocolate and egg whites that you mixed with the remaining sugar. Mix the mixture lightly and place in a baking tray lined with baking paper.
Bake the roulade in an oven preheated to 200 ° C for 15-20 minutes.
Fold the baked roll into a napkin and leave it to cool briefly.
Meanwhile, heat the water to which you have added sugar, vanilla sugar and rum to boiling. Remove from the heat and stir in the walnuts.
Wrap the roll, coat the biscuit with the prepared filling and fold it into the roll again.
Let stand for a couple of hours in a cool place.
Serving
Serve sprinkled with powdered sugar.
Advice
In the filling, you can replace part of the walnut with bread crumbs.