Chicken soup with barley
Some research claims that barley is the oldest cereal of Indo-Europeans. Although it has lost its former importance in human nutrition, healthy eating trends remind us of it again.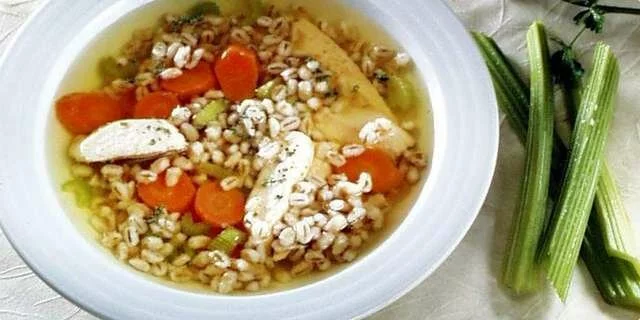 Preparation steps
Put the chicken fillet, bay leaf, thyme and carrot in cold water. When the water boils, add the chicken cubes and cook on low heat for about 20 minutes.
Strain the soup, cut the chicken and carrots into smaller pieces.
In the strained clear soup, cook the barley (about 30 minutes) and the sliced ​​celery stalk.
Towards the end of cooking, add the chicken, carrots and chopped parsley.
Serving
Serve the soup with grated parmesan.
Advice
Instead of parmesan, serve the soup with another cheese.