#

cephalopods

Instead of rice, I discovered that barley (orzo, barley) is also a great ingredient for risotto, in this case orzoto. As I am still a child of the sea and the Littoral, I combined it with these wonderful cuttlefish that I was lucky enough to "catch" today at the fish market and added a little brown squirrel ...
Black risotto
This is one of my favorite dishes. It's easy to make, a small number of foods, and tastes great.
Cuttlefish with potatoes, black, blackest
Don't give me a prescription, please! This is a recipe intended for true cuttlefish fans, and they always love cuttlefish ink! I think I can say for copyright — all rights reserved — because this is my current inspiration today, I haven't seen it occur to anyone to make such a very dark sepia!
Lettuce salad (or any other cephalopod)
I think even the sparrows on the branch say the best cephalopods you have are frozen first. They will be softer when cooked.
Mrkačići (muzgavci) in my way with two-color polenta Fish 051
Of course, octopus would be better, but times are hard, hobbies are expensive, so let's buy brownies and start preparing this fine dish!
Octopus with beans and orzo
A seemingly unusual combination of fish broth and beans has long been known on the island of Vis and is usually made when the broth remains the day before. The dish is called bean on broth. In addition, more recently, Split chefs have been preparing it with cod. Well, if a fine bean can with fish and manister, and what could it not with octopus and orza? It can, of course, be great, tasty and fragrant. Mrrrrrak bench!
Shrimp
Favorite seafood delicacy, which this year, due to duuuuuugog summer prepared in our house on several occasions
Squid alla napolitana
Don't let raisins and pine nuts distract you from these, albeit unusual, but enticing squids. Many will like it more than the proverbial fried!
Squid stew
The recipe is from one restaurant and it knocked me off my feet!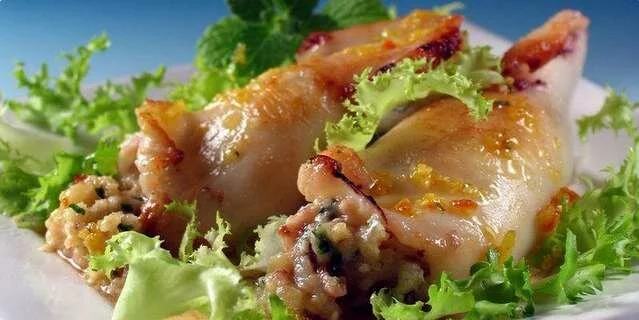 Squid stuffed with cheese
An excellent Mediterranean recipe has all the characteristics of seafood: seafood "kumpanjani" are with specific spices such as garlic and olive oil and stuffed with sheep cheese pecorino (or, if you don't have it, parmesan). What a taste!
Squid stuffed with shrimp
We like squid fried and grilled and stuffed with everything and everything. This time it was shrimp and Dalmatian grass. It would be even nicer if it were shrimp, but that is not always possible….
Squid with young beans
The macrobiotic cookbook "Changing Seasons" is my current cooking bible. This recipe is not macrobiotic, but it confirms the theory that there are dishes for every season. I have long been convinced that dishes that take a long time to cook are heated, so these days I don't dedicate more than thirty minutes a day to pots. This is my last quick recipe.
Stuffed squid Rivica
Restaurant "Rivica" from Njivice with a diploma "Maison de qualite Saint Fortunat", has included the island of Krk in the European elite. Certainly the Kvarner squid deserve it, of which Ivica Lesica masterfully prepared a new dish.
Tuna stuffed squid
This seemingly "harmless" combination of tuna and squid could completely suppress countless variations on the theme of squid, despite its unobtrusiveness. Quality is known to speak louder than words.