Candle
In addition to the impressions created in the encounter with the beautiful Prague, the Vltava, our tourists from the Czech Republic also bring an impression of Czech cuisine. Svîčková, whose main ingredient is beef steak, is a dish for gourmets and bon vivants.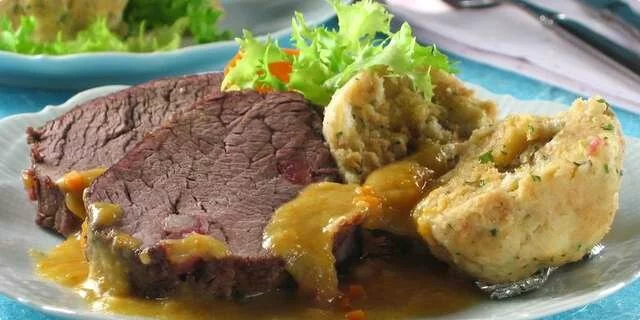 Preparation steps
Clean the steak from the veins, then cut indentations on the surface of the meat with a knife and stick bacon sticks in them. Rub the steak with Natur and fry in heated oil on all sides. Add the cleaned and sliced ​​vegetables and fry everything briefly.
For the stock, add the beef cube, bay leaf, thyme, lemon zest to the boiling water and cook for 2-3 minutes.
Place the roasted meat and vegetables in a pan, pour over the prepared stock, cover with aluminum foil and bake in an oven preheated to 180 ° C for about 40 minutes.
When the meat is cooked, slice it, and prepare the sauce from the roasting sauce and vegetables.
Forthesauce, strain the vegetables, boil corn starch in a little water, add cooking cream, vinegar, jam and white wine.
Serving
Pour the sauce over the sliced ​​meat and serve with dumplings.
Advice
You can marinate the larded steak with Natur the day before.