Canadian Pub Grub - Chicken Fingers & Potato Wedges
Every city, and in the city every pub has their favorite "pub grub". In my town, chicken fingers are served with fries, plum sauce and cabbage salad, often more popular than burgers. The method of preparation was shown from Bert & Ernie's pub that existed in the Bloor West Village neighborhood of western Toronto. One of those places in the neighborhood where everyone knew everyone's name, and for a visit that didn't need to be arranged with friends, because you'll always come across someone. B&E's chicken differed in that they marinated it in salt water, used ritz crackers instead of breadcrumbs for breading, and baked it instead of frying it.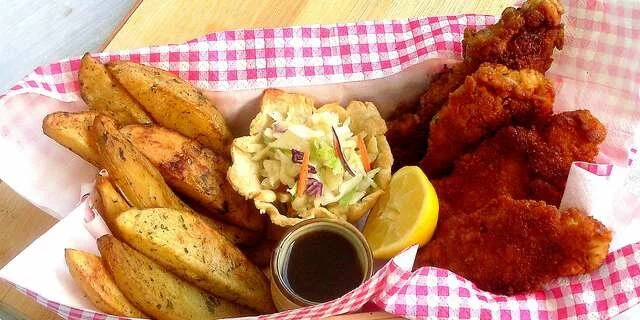 Preparation steps
Chicken Fingers: Cut white chicken meat lengthwise into pieces approximately 3-4 cm wide, and 1 cm thick. The night before soak them in salted water, and leave them to stand overnight in that water in the refrigerator, in a closed container. Put salt and pepper, red pepper, baking powder, and finely chopped parsley (can also be dried) in the flour. Beat the eggs, chop the ritz crackers with a rolling pin. Dip the meat first in the flour mixture, then in the egg, and finally in the ritz crackers, preferably the ones with cheese. Leave it in the fridge for about half an hour.
Potato Wedges (Potatoes) wash and cut into long slices, (I do not peel my own). Sprinkle it with a tablespoon of oil, salt, pepper, red pepper and chopped parsley, and mix everything by hand.
Plum Sauce (Chicken Sauce) for chicken: Finely chop the garlic, mix it with the jam and other ingredients. Cook everything together on low heat for about 5 minutes and cool.
Slaw (Cabbage Salad): Grate green and purple cabbage finely together with carrots (or take a ready-made mixture). Combine with the other ingredients, and leave in the fridge for an hour or two before serving.
Grease the baking tray with two tablespoons of oil and preheat it in the oven for about 10 minutes. Place the chicken and potatoes on a hot baking sheet and bake for about 20 minutes at 180C - I bake them for only 8-10 minutes per side. The dough baskets in which I served the salad were baked in a muffin tin, and I made them according to my recipe for Crisps.