Buncek in a new way
Thinly sliced ​​buncek, and instead of the classic kale stew in a more refined way, as well as a spicy sauce - it is an interesting dish with a well-known home-made taste, which can be served on more festive occasions.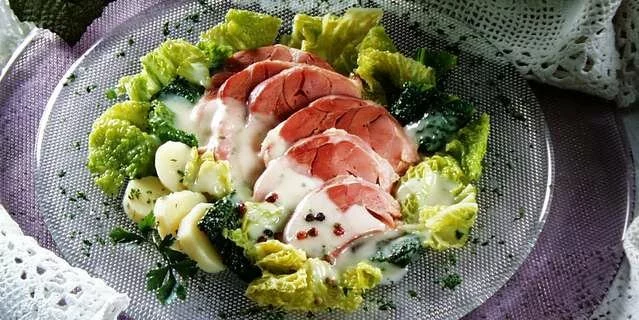 Preparation steps
Boil the washed shank briefly, drain the water and put it to boil again together with Vegeta. Leave to simmer on low heat for about an hour and 20 minutes.
Remove the skin from the cooked shank, separate the bones, and cut the meat into thin slices and place them in a little hot broth.
Separate the cabbage leaves from the head, thin or remove the middle thickened part. Wash them and cut into about 4 cm thick pieces.
Saute the kale prepared in this way on 30 g of butter, pour over a cup of the knuckle soup and simmer slowly for about 10 minutes. Add salt if necessary.
Prepare the sauce separately: Stir the flour into the remaining heated butter, pour in 200 ml of the broth from the knee and mix well. Add the cream and let simmer for 10 minutes.
Towards the end of cooking, season with marjoram, pepper and mustard.
Serving
Arrange the pieces of meat, stewed kale and part of the prepared sauce on a heated plate. Serve the remaining sauce separately. Serve boiled potatoes with this dish as a side dish.
Advice
Buncek (shank) must be cooked slowly, not at a high temperature to stay juicy.