Bonzita
Komsinica's recipe, which has been in my notebook for years and I can't make it, has finally come up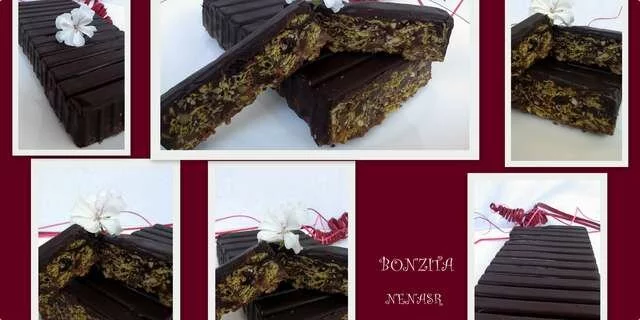 Preparation steps
First chop the walnuts and peanuts, fry the sesame a little, but to keep it lighter so that it can be seen in the cross section of the bonzita.
Melt the margarine, chocolate, sugar and honey, but do not boil. Remove from the heat and add the other ingredients. Take a tray and oil it a bit, then shake out the mixture and form a plate, so that it is 2 cm high, when it cools, pour over the chocolate glaze.
I played a little, I took the trays where the baby biscuits are, I coated them three times with melted chocolate, filled it with the mixture and poured chocolate over it. You can fill such three containers. I didn't measure the amount of chocolate I used, about 300g, this was just an idea, if you want it to look better.
It is important that it stays in the fridge for a day, in order to tighten nicely and cut into sticks, I tried to cut one after two, three hours and it fell apart.