Star cake
From simple wheat porridge, to which dried fruit, spices and honey were added, and flour cakes with eggs and butter, the recipes first lived side by side, only to merge into a traditional Christmas Cake in Victorian England.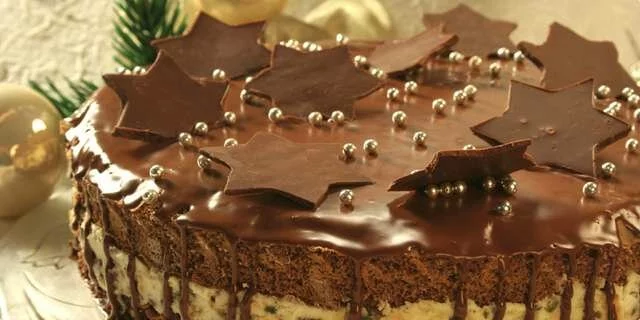 Preparation steps
Whisk the eggs and sugar well.
Add orange juice, flour mixed with baking powder, ground walnuts, chocolate and mix lightly.
Pour the mixture into a 26 cm diameter cake tin, lined with baking paper and greased, then bake in an oven preheated to 180ºC for 30-40 minutes.
For the cream, egg yolks and sugar, mix frothily, add milk, orange aroma and steam for about 10 minutes.
Pour the cream into a tall bowl and mix with an electric mixer for ½ minutes. Add Šlagfix, and mix with an electric mixer (maximum speed) until the mass becomes solid.
Stir the cooled mixture of egg yolks and a mixture of candied cherries, pistachios, chocolate, dry biscuits, raisins soaked in rum and almonds into the prepared whipped cream.
Cut the cooled biscuit and return half of it back to the mold. Apply the prepared cream on it and cover with the other half of the biscuit.
Pour chocolate and butter glaze over the cooled cake.
Serving
Garnish as desired and serve.
Advice
To make your glaze more beautiful, first heat the butter, remove it from the heat and stir in the shredded chocolate.