Basler Leckerli / Switzerland (Christmas collection 7.)
Schöni Wienacht -Schweiz, the famous Basel cookies with honey and almonds. Nice smell and very nice taste. The traditional cherries give them a special aroma.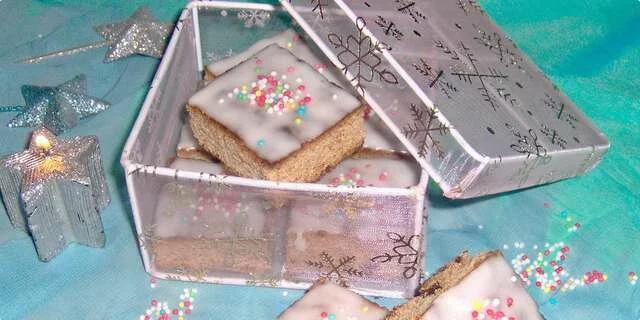 Preparation steps
Mix honey, sugar, butter and heat until the sugar dissolves. cool well!
Mix the candied crust with flour, almonds, orange peel, spice, cocoa and baking powder slika. Leave it to rest for about 1 hour.
Place the dough on a baking sheet with baking paper and flatten it with a knife or wet hands. Fig. 2. Place it in a preheated oven at 175 ° C for about 25-30 minutes.
Mix powdered sugar with lemon juice until you get a smooth mass of images3, then coat the hot cake. Decorate with beads and cut into cubes. 3 × 4 cm.