#

bajadera
Bajadera with small additions
I know this recipe already exists, but I have to add my own…
Bajadera with vanilla and hazelnuts
I saw a picture of this cookie and it immediately attracted me! And then I went for the recipe - simple, quick, no baking ... I was just waiting for the right moment to try it! Thanks to vonzi who led me to the recipe with her like. Vonzi: *
Bajadera with wafer
I have been making bajadera according to this recipe for many years, and I got it from a colleague, a cook by profession.
Bajadera with wafers
I have no idea why it is called bajadera, but it certainly belongs to the category of delicious, hearty and quick-to-make cakes with wafers ... for all those who like walnuts and chocolate in all combinations ..
Bajadere
They are not Kraš's but they are perfect!
I believe we all have some recipe for this type of cake. This recipe is so simple and the cakes so delicious that I never had the need to make it according to any other recipe.
Bajaderica
A beautiful cake that everyone loves.
Bajaderice
A cake that few people resist ...
Bajaderice
A quick, easy recipe, a dessert always present on a Christmas sweet platter.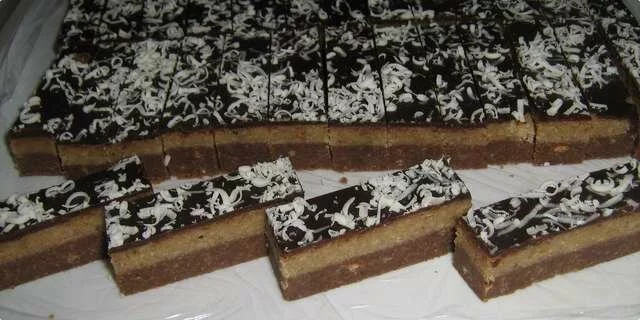 Bajaderice
like real Kras bajadera ...
Bajaderka
It's not a real bajadera, but it's a real refreshment. Without baking, the tili part is also made in the refrigerator. A full hit in these heats.
BajaNdera
BajaNdera is because she is with hazelnuts. And Đole Balašević also had that famous concert story with "Al 'used to eat well" where he mentions BajaNdera from the kiosk. This is Zika's mom's recipe and unlike the recipe for her Vanilla, this one is not feleric in the least!
Bajdera with caramel candies
It seems to me that a recipe like this has not been published yet ... very simple, fast and delicious ... I hope you like it
you can, if you wish, correct the mixture that will put you first, I put biscuits and then walnuts here.
Baked bajadera cake
I was delighted with the taste of this cake, try it more…