Allium Porrum - leek pie
Allium Porrum L. - leek ... phenomenal and dietary in 100g has only 35 calories. Mild taste, plus an excellent diuretic as well as help against winter fatigue. The recipe in which there is no frying of leeks and onions, nor the addition of cream, cheese, etc ... is very light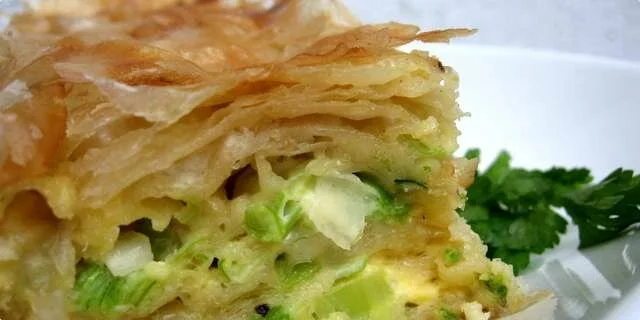 Preparation steps
Clean the leek, wash it, and cut it into rings, not very thin. Dip it in salted water, taking care not to overcook it. Strain.
Beat eggs, sour cream and baking powder in a bowl. Add chopped garlic, chopped primrose leaves, celery salt, pepper, carbonated water and oil, mix.
Stir in the drained leeks, mix and leave to stand for about 10 minutes.
Coat the pan with oil and arrange a row of crusts, a row of leek fillets. Mix a little carbonated water and oil in a glass and spray between the crusts.
Thinly coat the upper crust with the filling, without pieces of leeks and oven.