Afghan kabob with chard
I love Afghan kabobs and this is its counterpart with chard, in a drycooker or oven, and with a very light sauce. Created during the diet and remained….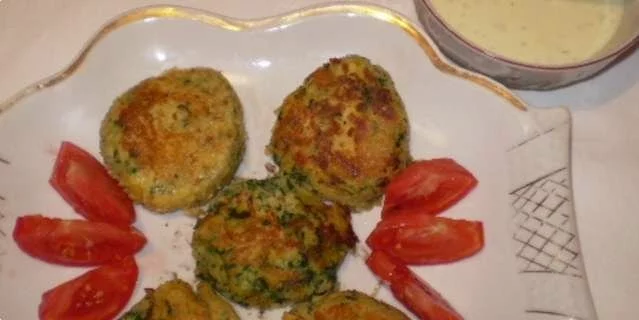 Preparation steps
Peel a potato, or if it is young, cook it cut into cubes, but be careful not to overcook it, because then it will be too soft and soaked in water, so it will require the addition of pretzels or flour. Peel a squash, grate it and refrigerate.
Wash the chard, chop and boil, then leave to cool.
Strain the cooled potatoes, add chard, egg yolks, spices and, if it is too soft, add a little breadcrumbs. Make meatballs or kebabs from that mixture.
First, roll the kebabs in breadcrumbs, then in the beaten egg and the remaining egg whites and fry in a dry cooker or oven in the oven on a baking sheet covered with baking paper, until they get a golden brown crust.
Of course they can also be fried in oil, but then they are no longer dietary.
Meanwhile, put a teaspoon of mustard, lemon juice and spices in a bowl and even them. Slowly add yogurt to them so that no lumps form.
Serve baked or fried kebabs with yogurt sauce.
You can serve them as a main dish or side dish, cold or hot, with sauce or tomato salad, the combinations are unlimited.
I don't serve them with bread, because they contain a lot of potatoes, so the bread is superfluous.
Serving
This is my version, you can "load" it with something else you want, and I have no doubt that it will be delicious even then. The energy value of the portion is 340 kcal.