Acacia syrup
Recipe from the Polish blog "Moje male czarowanie". The syrup is beautiful, I made it again today :) Acacia is best picked when it's sunny, nice day - not when the flowers are wet.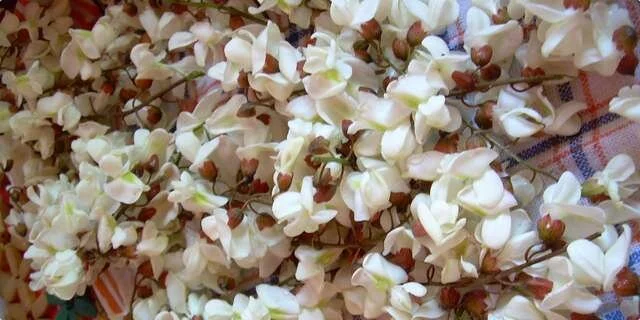 Preparation steps
Twigs with flowers wash well and dry on towels.
Boil water with sugar, leave to cool. Add the lemon juice to the cooled mixture, stir and leave to cool completely. Put acacia in cold syrup.
Cover the sickle well (I, as you can see in the picture, put aluminum foil instead of the lid). Leave in a cool and dark place for 24 hours.
After that time, strain the syrup, put it in the sickle to boil. Pour hot into jars or bottles, seal well, warm and allow to cool slowly (jars can be turned upside down).
Serving
Dilute with water to taste (quite sweet). The syrup has a very pleasant smell and taste - I warmly recommend that you try it :)