Abruzzo sfogliatelle
This summer in Naples I met their interesting desserts. Baba napoletane - a deadly sweet cake - I didn't want to try, but everyone who has tried it claims it's too sweet. I was struck by the Lobster's tail (coda d aragosto) - above all interesting and tasty, but I was especially impressed by the curly sfogliatella (sfogliatella riccia) with its magical smell and taste of orange. I tried to perform them several times and I was not happy with the result. But I'm not giving up. So now I have tried a simpler version from the neighboring province of Abruzzo. The dough is slightly different, and the filling is not even similar - it is a version of the filling for the Abruzzo specialty Bocconotti.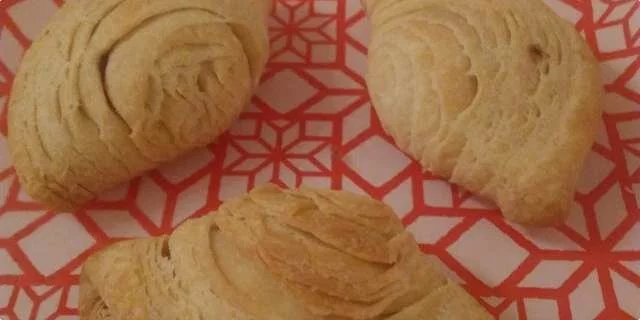 Preparation steps
From all the ingredients, knead a smooth dough. It should be soft, compact and should not stick to hands. Put the dough in a covered bowl for half an hour.
Knead the dough, and roll it out a bit. Divide it into 6 parts and pass the first part through the pasta machine (on the thickest part. Fold the dough to get the width of the machine so that the edges are straight. Repeat the process until you get a smooth dough. 4, and then halve the resulting sheet and continue rolling between transparent foils - foil width length 80-100 cm.It must be very thin almost transparent.Then coat with melted grease and continue rolling further laying a new sheet over the coated.Recoat and continue rolling until you get 6 layers.From this amount of dough you get 2 x 6 sheets
Coat the sixth sheet with grease and then wrap all six sheets in a tight roller. Wrap it in foil and leave in the cold for at least 12 hours. (best overnight)
The next day, prepare the filling - mix the jam with grated chocolate and almonds and mix in the cinnamon.
Roll the cooled dough a little with your hands on the surface to thin it to a diameter of about 4-5 cm. Work quickly so as not to soften. Use a sharp knife to cut the roller into discs. On a floured surface, press each disc lightly with a rolling pin to spread it slightly. Place a teaspoon of stuffing on each disc and fold to get crescents and lightly press the edges.
Bake in a preheated oven at 180 * for 15 minutes. Sprinkle with powdered sugar when cooled.