Pancakes with walnuts and wine topping
Pancakes in the de luxe edition will not let down even the most critical gourmets! Richly stuffed with candied walnuts and topped with vinegar, they are a reminder of how sweet was once truly enjoyed.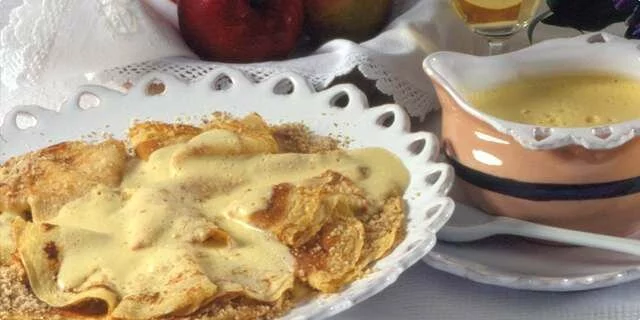 Preparation steps
In a deep bowl, mix the egg and a pinch of salt, then gradually add the flour and milk or mineral water.
Bake pancakes from the liquid dough prepared in this way. Using a small spoon, pour the dough into the middle of the pan with a little warmed oil.
Rotate the pan so that the dough spreads evenly over the entire surface of the pan. When the underside of the pancake turns yellowish-brown, turn it to the other side, and bake it briefly on that side as well.
Stuff the baked pancakes with walnuts mixed with sugar, cinnamon and vanilla sugar.
Preparation of the wine topping: mix the yolks, eggs and sugar, add the wine and place in a hot water bath. Beat with a snow whisk until everything turns into a thick foam.
Serving
Arrange the pancakes on a warm plate and pour over the wine chateau. Serve warm.
Advice
If desired, you can add rum and a little honey to the filling.