A breeze with a boy
Slightly upgraded the already existing, long-standing recipe for icy wind…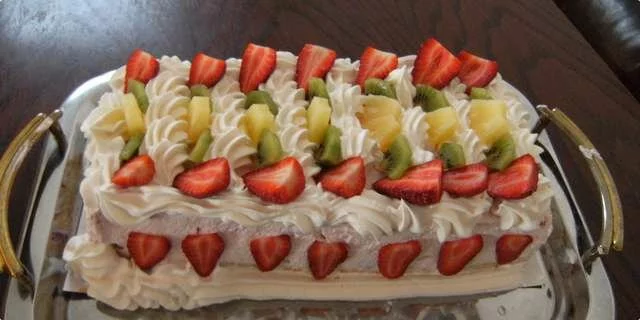 Preparation steps
Make the egg whites in solid snow, add a tablespoon of sugar and vinegar and continue to stir for another 10 minutes.
Shake the mixture on baking paper in the largest pan and flatten, bake at 170 ° C until golden brown on top (about 20 minutes more or less depends on the oven).
Remove from the oven and remove the paper cut into three parts and soak in 3 dc boys. Let it soak.
Make egg yolks with sugar and vanilla sugar in a light mixture. 10-15 minutes. Put the mixture in a bowl and cook on a low heat (one third of the strength) and mix with a food processor or a whisk until the cream is cooked. Mix the milk with a lump density and add to the egg yolks and mix until you get a thick cream.
Add the ground hazelnuts and leave the cream to cool in the fridge. Put half the butter in it and stir, then gradually add the phantom (half deci-deci) I didn't measure until you get a nice cream for the cake.
Stir the box of Dr. Oetker's cream in the children's water and chopped strawberries and mix into the already whipped cream.
Arrange the cake, crust-yellow fil-fruit-strawberry icing, crust-yellow fil-fruit-strawberry icing, crust and coat the whole cake with strawberry icing. Garnish with white icing and fruit.
Serving
a little closer cross section