Grandma Kate's pussy
The honey flavor of the raisins in this story blended perfectly with the butter in the filling. Coat the buttermilk according to the original recipe with a mixture of cream and egg yolks or melted butter. Grandma's cakes rule!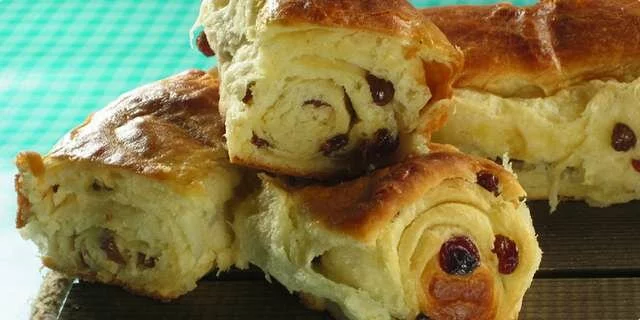 Preparation steps
Crumble the yeast in 100 ml of lukewarm milk to which you have added 1 teaspoon of sugar (5 g).
In a deep bowl, place the flour, salt, add the remaining sugar, sour cream, butter, egg yolks, remaining milk and the risen yeast. Mix well and beat until you get a smooth dough.
Leave the dough to rise for about an hour and divide it into three equal parts.
Stretch each piece thinly so that you get a regular quadrilateral (regular quadrilateral). Coat the dough with a third of the melted butter, sprinkle with a third of the raisins and fold. Repeat the same process with the other two parts of the dough.
Place the rolls of dough in a greased tin (size 36 × 22 cm) and coat with a mixture of cream and egg yolk. Bake in an oven preheated to 180ºC for about 35 minutes.
Serving
Cool the baked butter and serve as a dessert after lunch.
Advice
You can also coat the hot baked butter with about 20 g of melted butter, but then do not coat the raw dough rolls with a mixture of cream and egg yolk.