A bowl full of health :)
This sumptuous spring salad will brighten your day - rich in vitamins, minerals and antioxidants, it will drive away even the slightest hint of spring fatigue. Needless to say, it is supersuperfine. ;)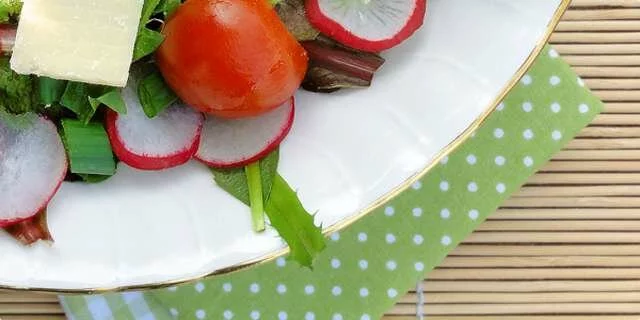 Preparation steps
Prepare the dressing: squeeze the lemon juice and mix it with olive oil, a little water and salt as needed.
Clean and wash the vegetables well. If necessary, tear the chicory and dandelion into suitable pieces. Cut tomatoes (here into 1/2), onions (into rings) and radishes (into thinner rings). Grate the cheese into thin slices.
Add sliced ​​vegetables to the radicchio and dandelion, pour over the dressing and mix gently. Arrange in portions as desired, sprinkle with cheese flakes and serve immediately.
Serving
A glass of fine white wine goes well with this salad.