A black woman
Cake or cake, depends on the model and decoration! It is very nice… ..... and I got the recipe from my sister, and she got it from a friend with a gift cake for gratitude as a mentor. The cake was decorated with whipped cream, and I make it like a cake and cover it with chocolate glaze.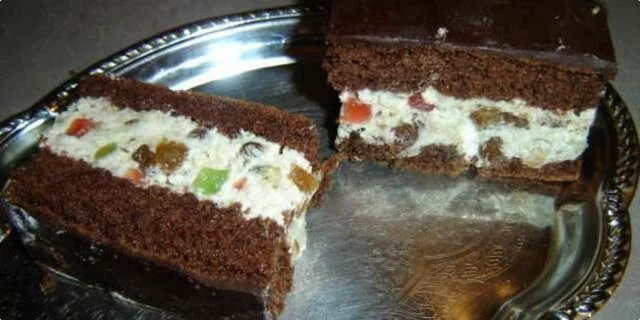 Preparation steps
BISCUIT DOUGH
I first beat the solid snow from the egg whites and put it aside, so I don't have to wash the whisks from the mixer)
"Frothy" mix the egg yolks with the sugar and vanilla sugar
slowly add oils, flour with baking powder, ground walnuts, cocoa
slowly stir in the egg whites
pour the mixture into a baking tray (mine is 20 × 36) in which you put the baking paper
put in a preheated oven, but not too strong!
bake at 180 C for about 30-40 minutes. check with a toothpick
cut the cooled cake into 2 crusts and coat with cream
CREAM
the flour is whipped with a little lukewarm milk taken from those ½ l. (pudding cooking system)
when the milk boils add this whipped mixture and boil briefly to thicken
I immediately transfer to another bowl and allow to cool gradually, stirring occasionally
make the margarine well until it becomes white and creamy
add the stock sugar and vanilla sugar
combine this margarine with the cooled mixture and mix well
chop the walnuts finely or put them in a nylon bag and crush them with a roller
jelly candies chop and put them to soak in the juice of half a lemon
soak the raisins in rum
now mix it one by one into the mixture
coat the bottom of the biscuit crust with cream and place the top crust
top glaze or who likes to decorate with whipped cream or of their choice
GLAZE
melt the butter
add the crushed chocolate and stir until the mass becomes even and smooth
there are other ways, and you choose the way you are used to
Tried it: a girl according to the original recipe as a cake!
Serving
Cut the cake with a knife dipped in hot water each time. The cake can be made the day before, and it is also suitable for freezing! Here's just taken out today! 48-54 pieces come out, it all depends on how you cut them and the size of the pan.