A black man in white
The recipe for this cake is very simple, and the result is juicy and creamy, so I hope that someone will try it and enjoy the irresistible combination of flavors;)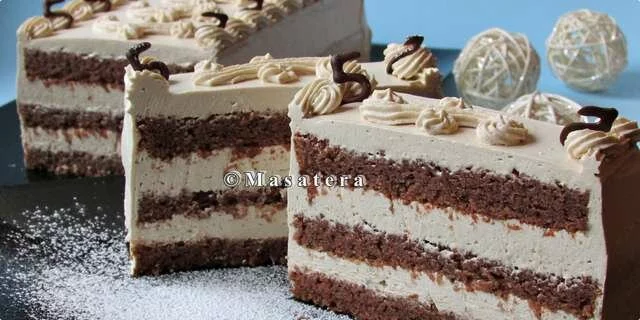 Preparation steps
Heat the sweet cream to boiling. Remove from the heat and add the shredded white chocolate and cappuccino powder. Stir until completely dissolved, then allow to cool. Once it is half cooled put it in the fridge to cool completely.
Prepare an oven tray measuring approx. 33x30 cm, line it with baking paper. Turn on the oven to 180 st.C.
For the dough, separate the egg whites and yolks. Mix the egg whites with 70 g of sugar and a couple of grains of salt.
In another bowl, mix the softened butter with the sugar and vanilla sugar. When it becomes frothy, add the egg yolk one by one, and after each mix until it mixes well with the rest of the mixture. Then add 3 full tablespoons of nutella and mix to form a thick mixture of uniform color. Now add two tablespoons of egg whites to make it easier to add the dry ingredients. Add the mixture of walnuts, flour and baking powder, and finally add the remaining egg whites.
Pour the dough on baking paper and spread it evenly over the entire width of the pan. Place the oven in a preheated oven at 180 st.C.
Leave the roast to cool and then cut into three strips of equal width (eg 11x30 cm).
Take the cooled cream out of the fridge and work it with a mixer. Add the whipping cream hardener and mix until desired.
Arrange a strip of biscuit, coat with a third of the cream, a second strip of biscuit, coat with another third of the cream, a third strip of biscuit and coat with the rest of the cream and decorate as desired or simply grate on top of the chocolate.
Serving
Note: When stacking the strips of biscuit, you should be careful to transfer it with spread fingers and palms, because the biscuit is juicy and sensitive to bending.