A black man in a shirt
The traditional, highly prized dessert of old Viennese cuisine in the original is, like most desserts of the last century, a real energy bomb. We tried to reduce its energy value without compromising its taste and aesthetics.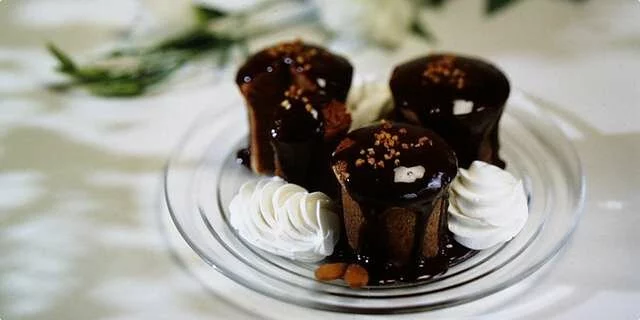 Preparation steps
Cut the buns into cubes, pour in 5 to 6 tablespoons of warm milk and mix. Whisk the softened butter with 60 g of sugar, egg yolks and melted chocolate. Add pre-mixed chopped buns, crumbs and ground almonds.
Beat the egg whites semi-firmly, add the remaining sugar (30 g) and a few drops of lemon juice and then beat until very firm. Stir carefully into the mixture of egg yolks and buns.
Coat the mold with butter, sprinkle with crumbs and fill with the mixture. Place in an oven preheated to 180 ° C, but in a bowl of water. Bake for about an hour. Then turn off the oven, open it, and let the cake evaporate a bit.
To prepare the glaze: place the broken chocolate in a bowl on another bowl with boiling water and melt the chocolate, stirring gently. Bring the sweet cream to a boil and add to the melted chocolate.
Remove from the water bath and continue to stir with a snow whisk until you get a uniform smooth mass.
Serving
Pour chocolate glaze over the baked cake and serve with whipped sweet cream.
Advice
Instead of whipped sweet cream, you can use whipped cream made with water.