A black and white treat
Very easy to store, and to taste… we mmm… favorite!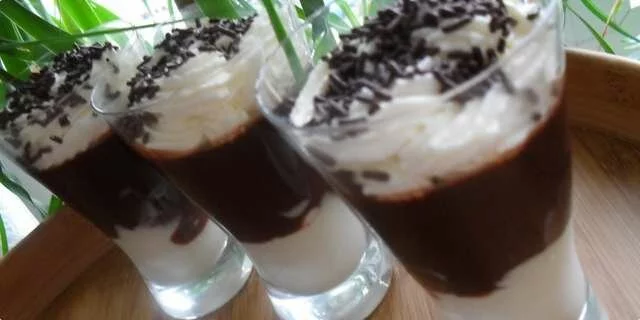 Preparation steps
White mass:
Mix the milk with the density, put everything on the stove, stirring to thicken a bit, remove from the stove, add the white chocolate immediately, mix to melt. Distribute in cups and cool.
Dark mass:
ml of milk with cocoa mix well, I did it with a fork. The remaining 200 ml of milk put to boil, add milk with cocoa, mix well, to throw one key, immediately remove from the stove, add dark chocolate, mix until dissolved .Cool a little.
Now that the mass has cooled in half, it can be lukewarm, but not too hot, distributed over the white mass, but carefully, and slowly with the help of a ladle. Decorate with whipped cream, and sprinkle with chocolate crumbs.
Keep in the refrigerator until serving!
Serving
Instead of density, more white chocolate can be added, as who likes. Dear Sazi did a fantastic job