A big snail with cheese
I found this recipe a long time ago on another site, but only now it's my turn to try it. And blown away !!! Smell, taste EVERYTHING !!!!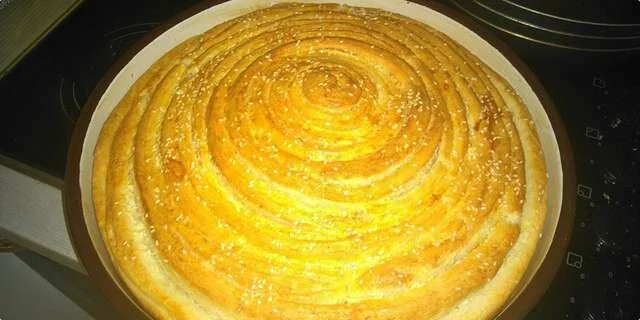 Preparation steps
Mix the yeast, milk and sugar. Leave for 10 minutes for the yeast to roll. Then add water, yogurt, salt, baking powder and flour. Knead the dough. This amount of flour was enough for me to knead a fine soft dough. Leave for about 45 minutes to grow.
Combine margarine and cheese.
Roll out the dough with a rolling pin half the thickness of about 60x40. Coat with the mixture. Cut into strips about 7 cm wide. Grease the pan or put baking paper.
Roll up one strip and put it in the middle. Take the strip one by one and lean one by one, at the end of the previous strip (the first one is rolled up, then they are just glued in a circle).
Coat the rolled snail with beaten egg yolk and oil. Sprinkle with sesame seeds if desired.
Bake at 180 degrees for about 30-45 minutes, depending on the oven. When it is baked, take it out of the pan and wrap it in a cotton cloth. Leave it for about 15-20, then serve. PLEASANT !!!