5-minute pork loin with mushrooms
The contrast of the cold base of mixed salads and hot steaks with aromatically spiced mushrooms, flavors that permeate only on a plate into one excellent rich combination…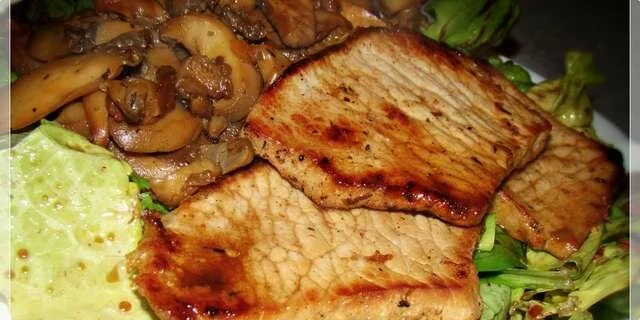 Preparation steps
First clean and wash the salad, dry it and divide it into plates.
Lightly clean the champignons with a brush and cut them into slices.
Melt the butter in a non-stick pan.
Lightly salt and pepper the meat on one side, then place on the fairly heated butter on the unsalted side to brown abruptly, about 2-3 minutes on a slightly reduced heat.
Turn the steaks and bake for another 2-3 minutes.
Take out two steaks for each serving and place on a salad.
Toss the sliced ​​champignons in the same pan to fry quite briefly.
Mix balsamic vinegar, water and a little salt, then pour the mixture over the champignons. Shake the pan and let the liquid boil for a few minutes.
Divide the champignons along with the liquid into two portions and divide over the salad on plates.
Serving
When the salad bed is warmed by the warmth of meat and mushrooms and when it is permeated with heated balsamic vinegar, it will become an equal part of this rich meal and thus complete the richness of taste.