4 P-breaded chicken packets from the oven
Chicken fillets with mozzarella and ham..breaded, baked in the oven ...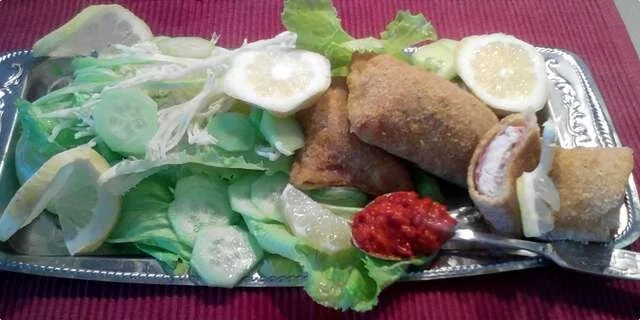 Preparation steps
Cut the chicken fillet into smaller pieces. I got 8 smaller pieces from the larger fillet. Place 4 slices of ham on the work surface and place the fillet on it. Coat with mustard and season with salt, pepper and red pepper. Put a slice of mozzarella on the fillet and season: salt, pepper or some spice as desired. Fold the sides first, then roll, and you'll get fine packets.
Roll the packets in flour, eggs (add 2 tablespoons of parmesan to the eggs and whisk finely), crumbs, then repeat the process of eggs, crumbs. Roll them well and make sure all your pages are closed. Remove the excess mixture with a pizza cutter and you will get flat sides.
Arrange the breaded packets on greaseproof paper, coat with oil or butter and bake in the oven at 190C for 25-30 minutes. You can fry the packets prepared in this way in oil.
Serving
Serve with sauce as desired.