2 in 1 salty and sweet from the same dough
This was supposed to be just salty at first, but when I kneaded the dough I saw that there was a lot of it, so I divided it. A little salty and a little sweet.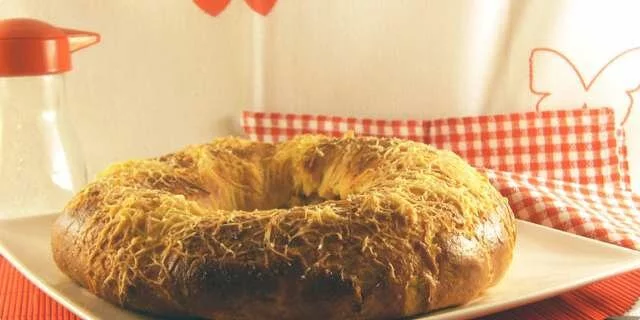 Preparation steps
First, wash the potatoes well and put them in cold salted water to cook. Cook for about 30 minutes from the moment it boils.
Cool it and peel it. Pass it.
Put the crumbled yeast in a little milk to melt.
Sift the flour into the dough bowl, then make a hollow where you will add mashed potatoes, 1 whole egg and 1 egg white, diced butter, cream, sour cream, salt and melted yeast.
Knead a homogeneous dough. If necessary, add a little more milk to make it easier to knead the dough.
I divided the dough into two parts, 2/3 and 1/3.
Roll out most of the dough on the work surface, which you sprinkled with a little flour, into a rectangle and spread the ham, 80 g of grated hard cheese and grated Parmesan on it. Twist it like a roll and join the ends.
Transfer the circle to a baking sheet on which you have placed the baking paper, coat with a fork whipped egg yolk with a little water and sprinkle with the rest of the grated yellow cheese.
Bake in a preheated oven at 200 degrees, for about 35 minutes or until it gets a nice yellow color.
Sweet: Roll out the rest of the dough on the work surface and take out the cakes with a round mold. Fry them in heated oil, but first the side on which they lay. Remove with a slotted spoon on a plate on which you have placed a kitchen towel. After a few moments, transfer them to another plate and sprinkle with powdered sugar and cinnamon.
Serving
The good side of this test is that you don't have to wait for the dough to rise. salty sweet