Dalmatian cake
This traditional Dalmatian cake is composed of Dalmatian almonds, golden brown caramel and light cream. The decoration is crispy leaves of roasted almonds.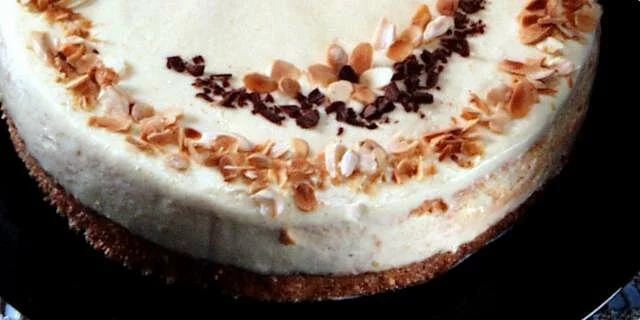 Preparation steps
Preparation of the base: beat the egg whites and sugar into a solid batter, gradually add the sugar and finally mix in the ground almonds. Pour the resulting mixture into a larger, greased cake tin (ø 26 cm) and bake at 150 ° C for about 35 minutes. Remove the baked base from the pan and let cool.
Preparation of the biscuit: beat the eggs with the sugar well into a thick foam, then add the flour and mix everything well. Pour the mixture into the same cake tin and bake at 180 ° C for 25 minutes. Remove the baked biscuit from the pan and cool.
Preparation of caramel: put the sugar in a small bowl on the fire and heat until light brown. Drizzle with water and cook until melted and until you get a thick mass sauce, then cool.
Preparation of cream: mix egg yolks and sugar well, add flour, vanilla sugar and pour boiling milk over everything. Then put to cook for about 5 minutes at a moderate temperature with stirring until it starts to boil and immediately remove from the heat so that it does not overcook. Cool the cooked cream.
Place the baked cake base on a plate, pour over half of the caramel, then coat with half of the cold cream, place the baked biscuit on top, pour over the remaining caramel and coat with the remaining cream.
Serving
Cool everything well and decorate the cake with toasted almond flakes.
Advice
You can change the shape of the cake into a cake by preparing it in a tin.