2 DISHES IN 1 - a suggestion for today's lunch
By cooking today's soup, which you will later use for pilaf, you will have both soup and main course prepared.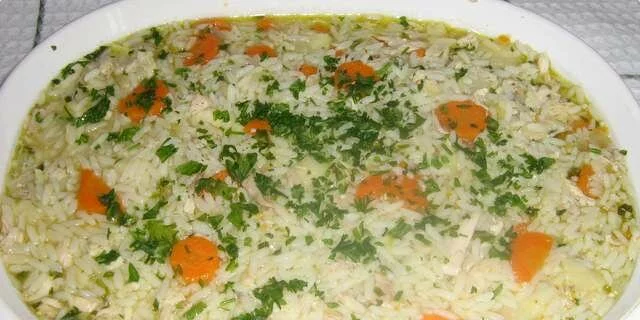 Preparation steps
Put the meat in water (about 3 liters of water) to cook together with peppercorns, bay leaf and vegeta. Cook for about 1 hour. Duck or goose meat can also be used instead of chicken, but then the cooking time is a bit longer.
Add greens to the soup: carrots, parsley, celery, and cook for another 15-20 minutes.
Strain the soup.
In another bowl, deep fry the red onion, finely chopped, then add the rice (so that the grains do not stick) and then deep fry a little more. Add the cooked soups and leave everything to cook further. (Ratio of rice and soup 1: 3 which means 1 part rice, 3 parts soup)
When the rice is half cooked, add the meat from the soup that we previously cleaned of bones and shrimp and cut into pieces, add diced vegetables or as desired, and simmer until almost done. Add salt to taste.
Place the rice in a fireproof dish and bake in the oven for another 30 minutes, until the rice is completely cooked and slightly dried.
Meanwhile, cook homemade noodles or semolina dumplings in the rest of the soup. Add salt if it is not salty enough.
Serving
Homemade soup is very pleasant on cold days, and only pilaf…