13589. recipe for breaded / roasted zucchini
I'm not a fan of Zucchini, but I decided to fry / fry zucchini in my own way, trying to please them somehow. And I have to admit, I succeeded, nothing spectacular but I ate them with pleasure!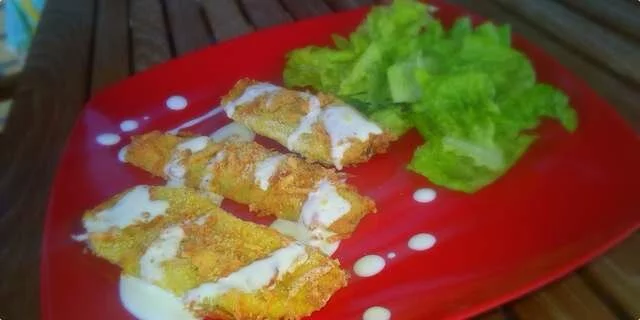 Preparation steps
First, peel the squash and cut into "strips", ie cut into approximately 4-5 parts. Then put in a strainer and salt the zucchini, leave to drain for an hour (and not so necessary, if you do not have time).
Prepare all the listed ingredients ... that is, in one bowl only flour, in the other 2 mixed eggs, in the third mix semolina, cheese, garlic, a pinch of salt, pepper and one tablespoon of vegeta.
Dip each strip of zucchini first in flour, then in eggs and finally in a mixture of cheese, semolina, etc. Then place the zucchini on a baking tray on which you have previously placed baking paper.
And you still have to spray the zucchini with oil, but quite a bit. Bake in the oven at 180 ° C until golden. :)
If you want a sauce too, I made plain white with cooking cream and spices, pepper, salt, vegeta. She boiled it on the fire and that's it.
Serving
As for the cheese, you can have whatever you want, grated, trappist, šmarski rok, edamer, etc. :)