Stuffed zucchini
Turkish cuisine masterfully uses spices, and for those who once find themselves in the colorful and rich offer of the Egyptian or Egyptian market in Istanbul, there are really new possibilities of combinations of spices with garlic, pepper, dill, cloves klin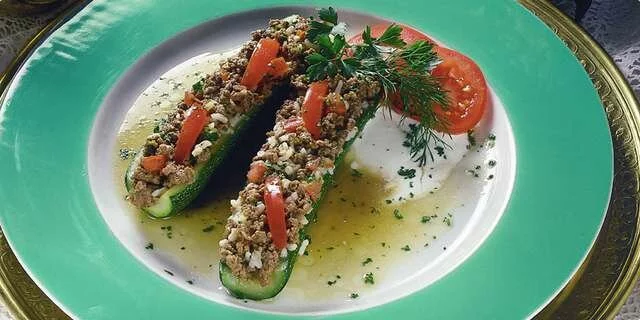 Preparation steps
Cut the zucchini lengthwise, scoop them out with a spoon and add a little salt.
Then prepare the stuffing: fry the meat in 2 tablespoons of oil, but only briefly, just enough to change color. Add the grated onion and chopped tomato, fry a little more and remove from the stove.
Stir in the rice that you previously soaked briefly in hot water and drain. Add chopped parsley, dill, mint, crushed garlic, pepper, a few drops of tabasco, a portion of the zucchini you dug out and Vegeta. Stir another 2-3 tablespoons of water into the mixture and add salt if desired.
Fill the zucchini with the stuffing prepared in this way, arrange them in a fireproof dish and put a slice of tomato on each one. Pour a mixture of 200 ml of salted water and 2 tablespoons of oil. Bake covered for 30-40 minutes at a temperature of about 200 ° C.
Serving
With this very tasty dish, you can, according to Turkish custom, serve yogurt with garlic that will further refresh it. But even without that, it will be a light and tasty dish with a side dish of your choice.
Advice
Use long grain rice to prepare the stuffing.