Sardines with rice salad
Complete the delicious grilled dishes with a seafood offer, along with a rice salad that you will prepare earlier and leave to stand in the fridge. When the party heats up and the sardines are baked, bring out the exotic rice and wait for the compliments.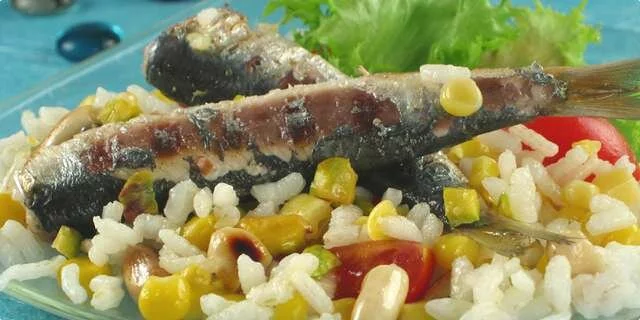 Preparation steps
Clean, wash and dry the sardines with a paper towel. Drizzle them with lemon juice, then sprinkle with Natur for fish and let stand for 30 minutes.
Cook the rice, drain and cool. Add sweet corn, chopped peanuts and pistachios, and diced tomatoes. Season with olive oil, apple cider vinegar, add a little salt, mix well and place in the fridge.
Meanwhile, place the prepared sardines on a hot grill and bake on each side for 3-4 minutes. Coat the sardines with olive oil during baking.
Serving
Serve warm sardines with rice salad.
Advice
In addition to grilling, you can prepare sardines in oil in a pan. Roll them in flour before baking.