Salmon roulade
This exclusive appetizer will delight even the most discerning gourmets. Mascarpone is a thick and creamy Italian cheese. It is most often used for a richer taste of sauces or desserts, and we recommend it in this combination with salmon.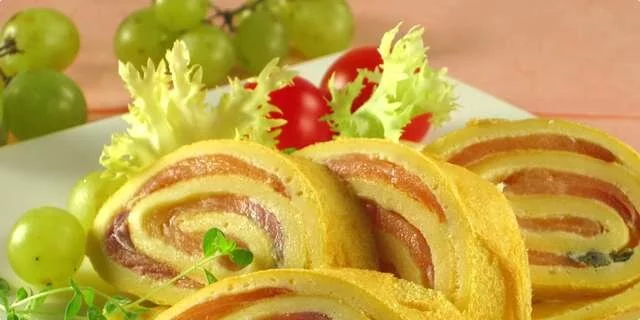 Preparation steps
Whisk the eggs, add salt and pepper, then alternately milk and flour mixed with baking powder.
Pour the prepared biscuit mixture into a baking tray lined with baking paper. Bake in an oven preheated to 180 ° C for about 15 minutes.
Cool the baked biscuit a little, then remove the baking paper. Then place the biscuit on a kitchen towel and fold it into a roll.
Mix mascarpone cheese with sour cream, add capers, horseradish, mustard and mix everything well.
Coat the cooled biscuit dough with the prepared cheese filling, and place the salmon slices on the filling and fold them into a roll.
Serving
Cool the roulade before serving and sprinkle with roasted sesame seeds.
Advice
Apply the cheese filling towards the edges of the biscuits in an increasingly thin layer.