Run
A very old Venetian specialty is traditionally served in several ways. In Padua, for example, zaleti or gialleti are more fragile because they contain more corn grits, and they got their name from its yellow color (Italian giallo = yellow).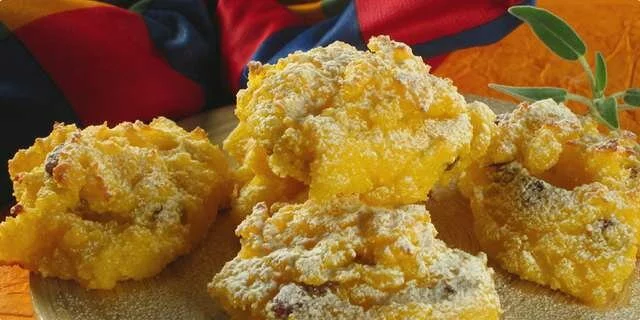 Preparation steps
Soak the raisins in brandy.
Heat the milk and melt the butter in it.
Mix the semolina with the baking powder, salt and sugar.
Add the milk and butter and stir for 10-15 minutes on low heat until you get a thick mass.
Stir in the raisins, then scoop the mixture with a spoon and place it on a baking sheet lined with baking paper.
Bake in an oven preheated to 200 ° C for 20 minutes.
Serving
Sprinkle the hot cookies immediately with a mixture of powdered sugar and vanilla sugar and serve with warm drinks.
Advice
Instead of raisins, you can put diced candied fruit.