Roast lamb with almonds
Roast lamb with lemon zest and roasted almonds will fit perfectly on your holiday table.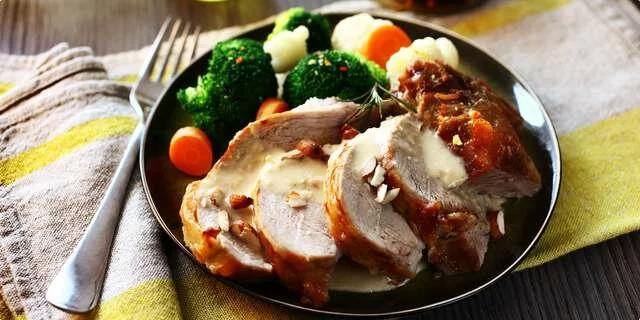 Preparation steps
Add the chopped garlic and 1 tablespoon of to the grated lemon zest and coat the lamb leg, which you previously lightly salted, with this mixture. Place the prepared lamb on a baking sheet.
In a portion of oil, briefly fry the onion cut into rings and add to the lamb. Drizzle with about 100 ml of water, cover with aluminum foil and bake in an oven preheated to 180-200 ° C for about an hour and a half.
At the end of baking, remove the aluminum foil, pour the remaining olive oil over the lamb and sprinkle with coarsely chopped almonds. Drizzle with wine and continue to bake for another 20 minutes until the lamb is browned.
Place the roast lamb in a warm place. Pour off the excess fat in which it was baked, and chop the sauce and onion from the roasting in an electric mixer. Stir rosemary leaves into the sauce, then bring to the boil.
Serving
Slice the lamb, pour over the hot sauce, add the cooked vegetables and serve.
Advice
You can soften the smell of lamb by marinating. Leave the meat with spices (lemon zest and juice, rosemary, thyme, garlic in the shell) to marinate for 2 to 24 hours in the refrigerator.