Pears with bishop's sauce
The fruit in the dough does not have to be a strudel or pie, but an interesting combination, which will delight even the most refined fruit lover in the dough.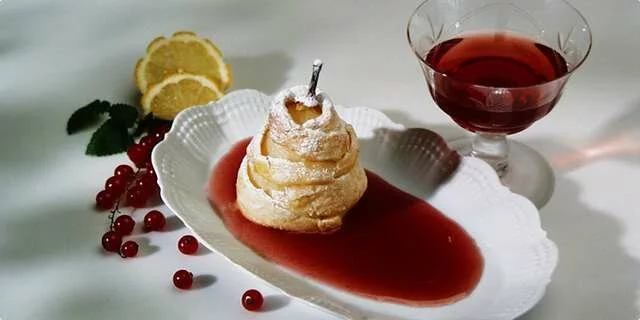 Preparation steps
Carefully peel the pears so that the stalks remain. Bring water, white wine, vanilla sugar, a slice of lemon zest, cloves, cinnamon and sugar to a boil. When the syrup boils, add the pears and cook them, but not quite.
Leave them in the syrup overnight to cool and soak in the spices. Then drain them.
Roll out the puff pastry thinly, coat with beaten egg and cut into strips, then wrap the pears in them and bake them in the oven for about 10 minutes.
Forthebishop's sauce, boil wine, water, a cinnamon stick and cloves. Add the jam and corn starch, which you mixed with the sugar and a little water, and boil briefly.
Serving
Serve the pears prepared in this way with the sauce.
Advice
As soon as you have cooked the sauce, take out a cinnamon stick. You can serve the sauce hot or cold.