Pasta with basil
Spices play an important role in Mediterranean cuisine, and basil in this simple dish. We enriched it with olive oil, grated cheese and garlic. Pesto, as it is called in Italy, is prepared in various ways, most often with pasta.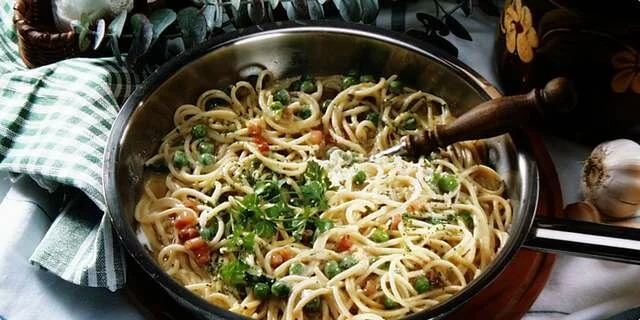 Preparation steps
Cut the bacon into small cubes. Prepare the basil mixture: mash the garlic, add the basil, parmesan, olive oil and pepper, then mix everything well.
Put the pasta to boil in salted boiling water. In a large bowl, fry the chopped bacon in a little oil, add the peas and Vegeta. Saute and drizzle with a little water until the peas soften, then add a little lemon juice.
Add the cooked drained pasta and basil mixture to the peas prepared in this way. Stir everything and let it warm up, then add a little of the liquid in which the pasta, sweet cream and chopped parsley were cooked.
Serving
Serve warm as an appetizer or main course.
Advice
You will achieve the juiciness of the finished dish if you use a small amount of liquid in which the pasta was cooked for the sauce.